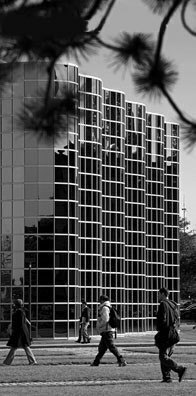 Sustainable Design
The fundamentals of Sustainable Design call upon the core principles of the Architect's craft: the careful integration of buildings within their existing natural and cultural context; the creation of a satisfying interior environment and sense of place for the inhabitants; a rigorously efficient approach to the use of resources and its effect on building systems design; and the consideration of the future evolution and re-use of the built environment.
The integration of sustainable design principles within a project's overall solution continues to be a natural extension of the holistic, collaborative design approach which is the foundation of Gwathmey Siegel Kaufman's work. Central to every one of our projects, this fundamental process enables us to develop solutions in partnership with our clients, allowing us to meet the varied goals of the program, function, aesthetics and sustainability.
Architectural elements, such as the consistent, careful inclusion of natural lighting and solar control elements, along with the sensitive selection of the interior materials and color palettes, contribute to the quality of the indoor environment for the users. Energy efficiencies, from the proper engineering of the building systems along with artificial lighting and control systems designs, are integrated through the inclusion of the expertise of various related disciplines, brought together at the start of the planning and design processes to contribute to a unified architectural solution.
Gwathmey Siegel Kaufman is a member of the U.S. Green Building Council.